BFA Junior Balloonist Program Mission
The Mission of the BFA Junior Balloonist Program is to encourage the natural curiosity of youth to pursue involvement in the lifelong sport of ballooning. The BFA Junior Balloonist Program encourages and supports members to develop programs and activities to expand the knowledge of youth who want to learn more. BFA Junior Balloonist Program activities are designed to nurture the skills and develop interpersonal connections that will connect youth to the balloon community and help them become pilots or crew thus ensuring the future of ballooning.
BFA Junior Balloonist Summer Camp Program
Are you a teen (or know of one) aged 13-17, interested in hot air ballooning and want to join us for a fun filled, action packed camp experience? Come and share part of your summer living and breathing ballooning. PREVIOUS BALLOONING EXPERIENCE IS NOT REQUIRED!
You will be joining FAA certified pilots and experienced staff who are trained to act as your mentors and counselors – making sure everyone learns in a safe environment. Join a community of teens sharing a passion for ballooning, in this unique and different residential camp experience!
You will be working with various balloon systems including set-up, tethering and if weather permits, maybe even a flight. There will be hands-on sessions where topics may include Crew Safety, First Aid, Pilot Training and Career Exploration, Weather Theory, Mapping, GPS and more. You will leave camp with the knowledge and skills to be a more valuable crew member, better prepared for becoming a safe pilot, and make lasting friendships with teens from around the country.
Junior Balloonist Summer Camp tuition covers all meals and housing, balloon activities, field trips and all the fun. Balloon camp is staffed by volunteers who are subject to background checks and trained to provide a safe and rewarding camp experience for all. To view Frequently Asked Questions about our youth protection policy CLICK FAQs.
A Nonrefundable $75 registration fee is due now and the remaining $550 tuition balance will be due by May 15, for a total of $625. Limited scholarships are available, see scholarship information below.
2021 Camp Dates and Locations
High Sierra Balloon Camp – Reno, NV – June 20-25, 2021
Southeastern Balloon Camp – Gaffney, SC – June 22-27, 2021
Rio Grande Balloon Camp – Albuquerque, NM – July 10-15, 2021
Registration begins at 8:00am Central time March 1, 2021.
Camp Registration Process
Online Camp Registration opens - Camp Registration requires a $75 Camp Registration fee to hold your spot in camp. This fee is nonrefundable unless selected camp has reached capacity.
Youth who have not attended a BFA Junior Balloonist Camp have priority acceptance.
Campers who have attended BFA Junior Balloonist Camp in previous years but are registering for a different camp location will be given priority acceptance at that location
All campers will be considered for camp acceptance at any camp location given space and payment of registration fee.
Beginning on March 22, campers will be informed of their registration status. Any campers that register after this date will be informed of status as space is verified.
All scholarship essays and letters of recommendation are due to

This email address is being protected from spambots. You need JavaScript enabled to view it.
Beginning on April 15, campers will be informed of scholarship status. All campers who have camp tuition balance due, will be invoiced.
Full camp tuition due or spot in camp may be forfeited.
Note – Hot Air Ballooning is the perfect way to get outside and safely enjoy a week of your summer learning new skills and meeting new friends. The 2021 BFA Junior Balloonist Camp Directors and their staff are planning for you to come and enjoy the camp experience. Individual camps will run based on federal, state, and local policies. Any updates to our programming will be shared on this page, the Balloon Federation of America Youth Program Facebook page or individual camp social media pages. For more information about our COVID safety plans and policies CLICK COVID POLICY.
Scholarships
The Balloon Federation of America grants a limited number of scholarships for youth attending BFA Junior Balloonist camps. In addition, many local balloon clubs and service organizations provide varying levels of scholarships for campers. Contact balloonists in your area to see if local scholarships are available.
If you wish to apply for a national scholarship these are the requirements.
Campers must pay the nonrefundable camp registration fee to be considered for a scholarship.

Campers must write a 200-500 word essay on one of the following topics.

Why do you want to attend a BFA Junior Balloonist Balloon Camp?

What does the sport of ballooning mean to you?

Email completed essay to

This email address is being protected from spambots. You need JavaScript enabled to view it.

with the name of the camper and the camp location attending by April 1.
Provide a letter of recommendation from a non-family member. This can be someone associated with ballooning or a teacher, coach or other adult familiar with the camper. This letter should be sent to

This email address is being protected from spambots. You need JavaScript enabled to view it.

with the name of the camper and camp location attending by April 1.
Essays and letter of recommendation must be received by April 1 to be considered for scholarship award.

Any additional applications and scholarships received after April 1 will be awarded based on need, requirements met and timeliness of application.

Camp Directors will inform campers of their scholarship status around April 15.

If a camper completes the application process as written and no scholarship is available and they cannot find other means of paying for camp, the BFA Youth Chair will consider a refund of the camp registration fee.

Campers receiving scholarships will be required to write a thank you during camp.
Volunteers
The BFA Junior Balloonist Camps are run by a dedicated group of volunteer FAA Certified pilots and crew members who share their knowledge and passion for ballooning each summer with youth from across the country. Camp Staff are required to complete a BFA Background Check and are trained to make sure campers have a safe and rewarding week nurturing their natural curiosity in ballooning. If you are interested in joining our camp staff, please click the box below for BFA Summer Camp Volunteer Registration.
Questions – Email us here at

This email address is being protected from spambots. You need JavaScript enabled to view it.
For more info contact the BFA office:
515-961-8809
This email address is being protected from spambots. You need JavaScript enabled to view it.
2021 Junior Balloonist Camps Announced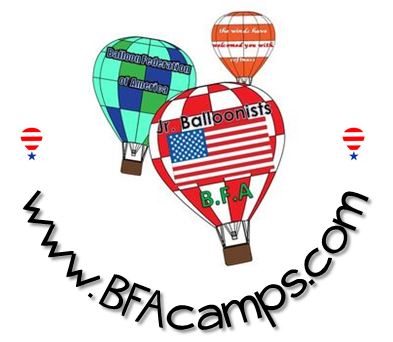 2021 Camps Scheduled
Rio Grande Camp - Albuquerque, New Mexico - July 10th, 2021
Southeastern Balloon Camp - Gaffney, SC - June 22, 2021
High Sierra Camp - Reno, NV - June 20, 2021
More date details coming soon.
Registration begins at 8:00am Central time March 1, 2021.

Registration priority is given to new campers first with returning campers second. Many balloon clubs offer scholarships for their member teens to attend camp. We encourage you to join your local balloon club and become more involved in ballooning in your own area as well as by attending camps!
---